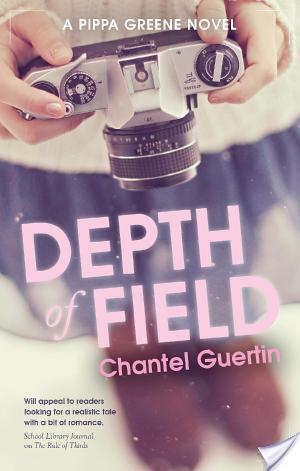 Depth of Field
by
Chantel Guertin
Published by
ECW Press
on August 12th 2014
Genres:
Friendship
,
General
,
Social Issues
,
Young Adult
Pages:
200
Goodreads

Two weeks in New York City should be the time of PippaÕs life: sheÕs attending the prestigious Tisch Photography Camp. But what should be 14 unforgettable days of bliss turns into chaos when her one and only nemesis, Ben Baxter, proves to be surprisingly more complex than she couldÕve ever imagined, and her Tisch mentor, a renowned photographer, seems to have a lot more to do with her parentsÕ past than anyone wants her to know. Is Pippa out of her depth?

Picking up where she left off in The Rule of Thirds, Pippa Greene returns in Depth of Field, a story full of the same heart, comedic touches, and romance that made readers fall in love with Chantel GuertinÕs charming YA series.
Pellentesque nec elementum quam. Maecenas eu dolor massa. In est dolor, suscipit non feugiat et, vestibulum a justo. Cras nec ex lectus. Nulla finibus bibendum est vitae condimentum. Integer at enim lorem. Etiam eu turpis tincidunt, vulputate nibh volutpat, auctor orci. Vivamus sollicitudin vitae massa a pharetra. Sed viverra libero vitae lectus ultricies interdum et congue mi. Aenean ac massa quis turpis venenatis feugiat. Integer porta, dolor eu rutrum pretium, dolor libero pulvinar mi, eu varius dolor sem vitae tellus. Cras sit amet eros vitae lorem rutrum laoreet. Pellentesque habitant morbi tristique senectus et netus et malesuada fames ac turpis egestas.
In hac habitasse platea dictumst. Donec ac mauris sit amet lorem hendrerit efficitur vel eu ipsum. Sed suscipit quam sed fermentum eleifend. Vestibulum egestas libero nec libero condimentum lacinia. Integer facilisis elit sed elit pharetra, eu vehicula diam ultrices. Donec tristique vestibulum purus, suscipit elementum eros lacinia et. Pellentesque ligula nunc, auctor eu varius vitae, fermentum eu tellus. Pellentesque vel dui quis velit fermentum hendrerit.
Nulla lobortis vulputate tellus, accumsan tempus tortor pulvinar eu. Pellentesque in fermentum tortor. Praesent vitae massa vel lacus interdum suscipit. Etiam varius maximus lacus, sit amet rutrum leo venenatis et. Quisque ac ultricies nunc. Aliquam aliquam quam vel iaculis semper. Aliquam gravida tellus at purus pretium, vel sagittis ex consequat. Aenean quam nisi, congue volutpat odio eu, hendrerit varius diam. Mauris viverra lacus id sapien gravida, eget fermentum nisi sagittis. Nulla nec tortor eleifend, rutrum mi et, malesuada erat. Proin ultrices massa at massa faucibus sodales. Nunc nec laoreet dui. Cras ac volutpat mi, in auctor nisi. Aenean nisl ex, ornare sed leo at, efficitur fermentum arcu. Morbi vitae mi risus.