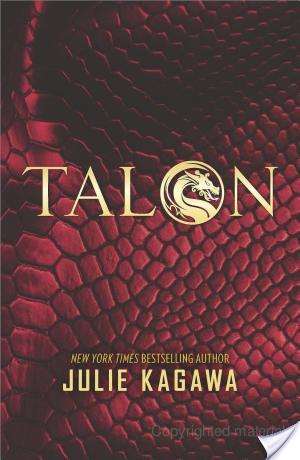 Talon
by
Julie Kagawa
Published by
Harlequin
on October 28th 2014
Genres:
Animals
,
Dragons, Unicorns & Mythical
,
Fantasy & Magic
,
Love & Romance
,
Young Adult
Pages:
304
Goodreads

In Julie Kagawa's groundbreaking modern fantasy series, dragons walk among us in human form. Long ago, dragons were hunted to near extinction by the Order of St. George, a legendary society of dragon slayers. Hiding in human form and growing their numbers in secret, the dragons of Talon have become strong and cunning, and they're positioned to take over the world with humans none the wiser. Ember and Dante Hill are the only sister and brother known to dragonkind. Trained to infiltrate society, Ember wants to live the teen experience and enjoy a summer of freedom before taking her destined place in Talon. But destiny is a matter of perspective, and a rogue dragon will soon challenge everything Ember has been taught. As Ember struggles to accept her future, she and her brother are hunted by the Order of St. George. Soldier Garret Xavier Sebastian has a mission to seek and destroy all dragons, and Talon's newest recruits in particular. But he cannot kill unless he is certain he has found his prey—and nothing is certain about Ember Hill. Faced with Ember's bravery, confidence and all-too-human desires, Garret begins to question everything that the Order has ingrained in him—and what he might be willing to give up to find the truth about dragons.
Vestibulum tincidunt tortor erat, sit amet porttitor nulla posuere id. Donec varius venenatis enim, a consectetur dolor pellentesque sit amet. Morbi eget ultricies dolor. Maecenas a justo lacus. Etiam in orci id justo porttitor volutpat in id lorem. Suspendisse sit amet mi ut risus pellentesque mollis vel eget massa. Aliquam hendrerit sapien id quam iaculis, ac dignissim nulla euismod. Sed eget ipsum id sapien malesuada sodales vel at ipsum. Pellentesque ac blandit est. In hac habitasse platea dictumst. Pellentesque consequat porttitor porttitor. Donec tempus felis in ante egestas luctus. Mauris ac hendrerit enim. Nam hendrerit sit amet nisi id ullamcorper. Cras eu turpis tempor, vehicula nunc quis, cursus massa. Ut id risus erat.
Aenean in diam quis nisi cursus interdum a non risus. Pellentesque elementum sit amet felis sit amet volutpat. Sed a arcu quis ante pretium imperdiet ac et eros. Suspendisse sit amet mattis arcu. Nulla non iaculis leo, eget imperdiet eros. Vivamus at nisl turpis. Etiam ut mi id lectus egestas suscipit in vitae dolor. Ut id vulputate ligula. Aliquam interdum aliquet magna at euismod. In blandit sodales efficitur. Nulla risus nisi, maximus eu libero ac, mattis bibendum nisl. Vivamus congue elit in finibus volutpat. Quisque varius et elit a maximus.
Vivamus a posuere augue. Suspendisse vehicula eget est ut imperdiet. Fusce nisl nisi, vehicula id mi cursus, interdum rutrum magna. Quisque cursus malesuada metus, vel laoreet lorem molestie non. Proin et luctus lorem. Etiam eleifend nec dui a aliquam. Mauris sit amet feugiat quam, quis dignissim leo. Etiam fermentum tortor eget massa consequat lobortis. Integer aliquet nunc pulvinar urna cursus, fringilla blandit mauris pellentesque. Nullam viverra dui a lobortis volutpat. Morbi aliquam feugiat quam, vitae consectetur risus posuere a. Nulla facilisi. Quisque ullamcorper, odio sit amet laoreet auctor, tortor dui lobortis leo, iaculis mattis enim nunc in erat.